We're professional manufacturer of high quality PVC edge banding in China. Our woodgrain color series PVC edge banding uses high quality new material, scientific formula, unique process. The woodgrain color is colored and printed with all kind of woodgrain pattern, the finished products have high simulated woodgrain effect, natural effect. It has flat,smooth and glabrous surface, good decorative protective properties, strong adhesion. Regular thickness is 0.4mm-3mm, width can be 15-90mm. For 0.4-0.6mm thickness, it can be cut to any width according to customer's demand conveniently, for thickness 0.8-3mm, the width is extruded directly. Edge banding can match with board perfectly. Stable quality is ensured, deformation resistance, angeresistance, color keep the same after trimming, color of thin and thick one can keep the same. We can customize any of your colors and embossing.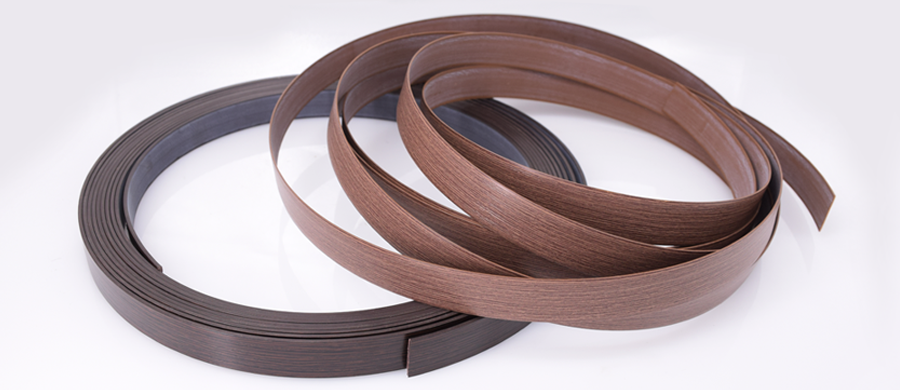 Products Advantages
1. Use high quality material to ensure the best quality
2. Professional formula to ensure the base color and quality
3. No whitening after trimming
4. Keep same color for thin and thick one
5. No yellowing
6. Strong adhesion for UV, not easy to fall off
7. Not easily deformed and ageresistant
8. Good impact resistance and abrasion resistance
9. Stable quality between different batches
10. Safety, environmental protection, no heavy metals, lead-free
WHY CHOOSE US

1. Customize available, can customize customer's demand color and embossing
2. Quality ensured,best price.
3. Accurate size in bulk production,no cheating on thickness,width and quantity
4. In-time response to customer's inquiry and good after-sale service